Price
£55 per person (10+ years)

Gorge Walking in the Cairngorms
A truly exhilarating experience, get ready to walk, wade, swim, scramble and clamber up small waterfalls, gullies, and chutes. Of course, every good experience needs the ultimate high, once you reach the top of the gorge it's a 10-foot step into the plunge pool! Once you've conquered that, slip and slide your way back down those gullies and chutes.
Our Gorge Walking is set in a stunning little gorge just a 15-minute drive from Cairngorms Activities. You'll be fully briefed and kitted out with a 5mm full-body wetsuit, buoyancy aid, and helmet. You'll change in the comfort of our changing rooms before making your way to the gorge.
Gorge Walking is the perfect morning or afternoon activity for a group of family and friends, school or youth group, stag or hen, or as part of corporate team-building. This 3-hour activity is suitable for ages 10+ years and is available from April-October.
Summer Couples offer - 2 places for £99 - Call us get this fantastic deal.
Book Gorge Walking Today!
Plan your adventure!
Slip, slide, and test your nerve with our exhilarating Gorge Walking experience
A fantastic aquatic adventure!
You'll walk, wade, swim, scramble and clamber up waterfalls, gullies and chutes during this exhilarating gorge walking experience.
Our expert instructors will provide you with all the safety kits, wetsuits and a whole lot fun! Plus, offering up the ultimate challenge for the brave at heart is the big climb to complete the ten-foot step, into the plunge pool below. Are you brave enough?
Children aged 10 - 16 years must be accompanied by an adult participant.
What's Included?
Sessions led by experienced instructors
3 hour experience
5mm full-body wetsuit
Buoyancy aid and helmet
Access to our facilities

Please note, due to this being an off-site activity please arrive at our centre 15 minutes before your start time.
What to bring with you:
Good soled shoes that you don't mind getting wet (no slip-on wet shoes or sandals)
All members of your party must bring any medication they need
Clothes to wear as a base layer under your wetsuit, such as a rash vest, swimwear, etc
A change of clothes and a towel for afterwards (changing robes are great!)
Hats and gloves with a flask of hot drink if it's cold
Water and 'energy' food for after activities (fruit and chocolate)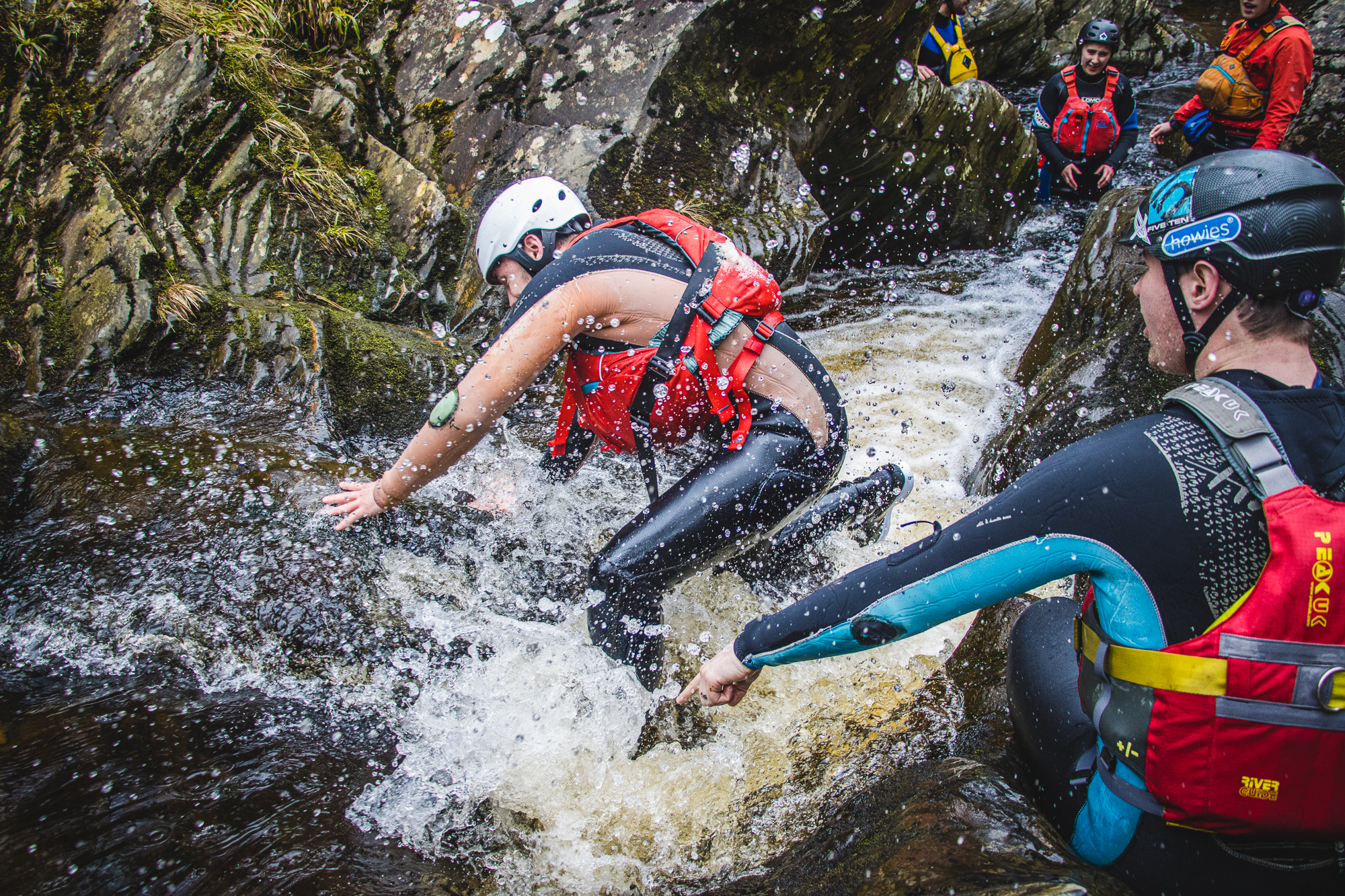 Video Library
Watch some handy videos about our gorge walking activity.
Gorge walking in action!
See what your exhilarating gorge walking session could look like!
Your gorge walking questions, answered.
In this video, we'll answer all of your burning gorge walking questions.
How to prepare for your gorge walking activity
Give this handy video a watch to see how to prepare for your gorge walk.