Top 7 Corporate Team Building Activities in Scotland
20 April 2023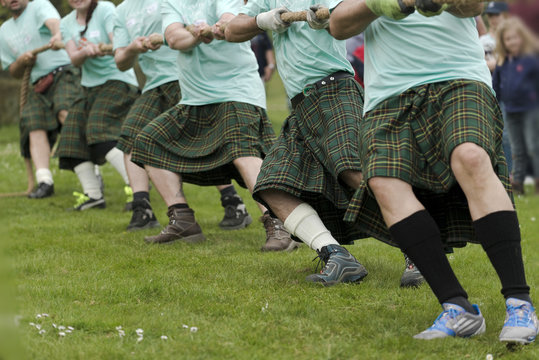 Scotland is an ideal destination for corporate team building activities, which can help boost morale, improve communication and cooperation, and enhance problem-solving skills.
Whether you're in Glasgow, Aberdeen, Edinburgh, or the Highlands, there are plenty of options for team building activities that are both fun and effective.
Here at Cairngorms Activities, we've got the perfect setting for team building events in the great outdoors. Our corporate events are designed to mix team challenges with lots of fun, whether a full day or half day.
We use different outdoor activities to craft fun and unique team building days to meet the desired outcomes of your organisation. Because of this, we know a thing or two about team building in Scotland!
So, to help you plan a popular team event, here are our top 7 picks for corporate away day activities.
Top 7 team building activities in Scotland
Highland Games: The Highland Games are traditional Scottish activities that feature various competitions, including tossing the caber, hurling the shotput and wanging the welly, and more. The games are a great way to promote teamwork, competition, and physical activity. They are also a fun way to experience Scottish culture and history.
White Water Rafting: For those seeking an adrenaline-fuelled team building activity, white water rafting in Scotland is a must. With the breathtaking scenery of the Cairngorms and the River Findhorn, this activity will test your teamwork and communication skills as you navigate through the rapids.
Raft Building: This offers the perfect opportunity for your team to work together and solve problems. Putting their skills to the test as they build their raft, ready to take out on the water. They'll face different challenges as they design and build their vessel with the equipment provided. Of course, the teamwork is really put to the test when they hit the water.



High Ropes: Ropes courses provide lots of different activities in one. They can provide great team problem solving tasks, and the different skill levels allow everyone to take part. It's an opportunity for staff members to leave their comfort zone and push themselves in a safe environment. You'll find ropes courses across Scotland, but our peaceful, tucked-away location in the Cairngorms adds to the unique experience.
Canoeing: A gentle canoe on the River Spey could be just the break your team needs from the office. Corporate days don't have to be fast-paced. It can be really nice for teams to paddle along the calm river while getting to know each other better. For whole day events, canoeing can add a more relaxed mix to the day.
BattleZone and Paintballing: If you have a competitive team, then putting them into teams that go head-to-head on the "battlefield" can be a great way to enlist teamwork and fun. For those less keen on getting hit by paintballs, BattleZone is a more gentle approach with laser tags but with the same competitive edge!
Gorge Walking: Gorge walking can be great for teams who want to help each other navigate waterfalls, gullies, and chutes! It's an exhilarating experience that will leave your team feeling pretty proud of themselves. It's the time of activities that will have team's talking about the day for a long time to come



Planning a Scottish corporate team building event
There are plenty of activities available throughout Scotland that will provide your team with a number of different benefits. From encouraging team work, to getting to know each other outside of the office, a well organised team building day will not disappoint.

One of the main reasons people choose Cairngorms Activities for their team days in Scotland is there is something for everyone. Your event can be tailored to your team, with corporate activities to suit small to large groups.
So if you're looking for the perfect venue and range of team building activities run by knowledgeable and friendly staff, you're in the right place.