From Gorge Walking to White Water Rafting: Watersports in the Cairngorms National Park
12 April 2023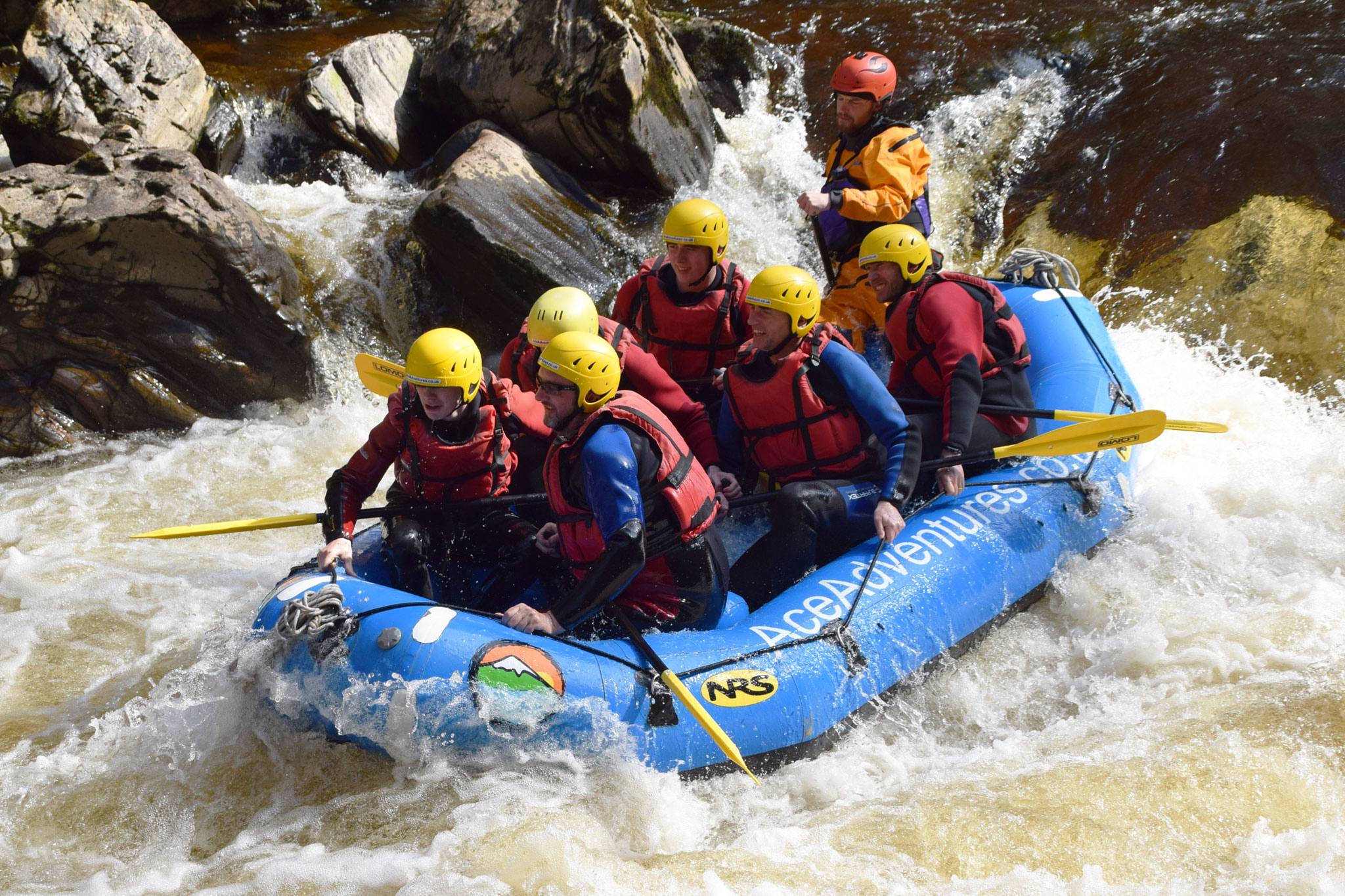 Whether you're a group of friends looking for active outdoor pursuits or a family looking to enjoy the Cairngorms National Park from a unique perspective, the water-based outdoor activities in the Scottish Highlands are in abundance. 
From a gentle paddle on the beautiful River Spey or rafting the rapids of the River Findhorn, you'll find a watersports activity to satisfy all levels of water fun.
From our base in Aviemore, we've got some of the best water-based outdoor adventures to try in the Cairngorms. So read on, and let's plan your next adventure or activity days.
Is the water safe in the Cairngorms?
Firstly, we want to answer one of the most commonly asked questions regarding watersports in the Cairngorms: whether the water is safe.
The answer is yes!
The water in the Cairngorms National Park is pristine and crystal clear, making it a great place to participate in watersports and popular for wild swimming.
The Cairngorms National Park Authority works hard to maintain the water quality, and regular testing is carried out to ensure the safety of those using it.
Of course, if you're planning on heading onto the water yourself without a local activity provider, your safety must be a priority. Whether you're swimming, windsurfing, or paddle boarding, we recommend you take precautions to keep yourself safe.
Wear a life jacket: Always wear a properly fitting life jacket or personal flotation device (PFD) when on the water, regardless of your swimming abilities. It can save your life in the event of an emergency.
Check the weather: Check the weather forecast before heading out, as sudden changes in weather conditions can be dangerous. Avoid going out in strong winds, heavy rain, or thunderstorms.
Stay within your limits: Don't try to tackle water conditions that are beyond your skill level. If you're a beginner, start with calm and shallow waters and gradually work your way up to more challenging conditions.
Bring a communication device: Carry a waterproof communication device, such as a mobile phone in a waterproof case or a two-way radio, to call for help in case of an emergency.
Know the area: Familiarise yourself with the area you'll be paddling in, including any potential hazards, such as rocks, waterfalls, rapids, or submerged obstacles.
Let someone know your plans: Always tell someone where you're going and when you expect to return. If you don't return on time, they'll know to raise the alarm and start searching for you.
Stay hydrated: Dehydration can occur quickly when on the water, especially on hot days, so make sure to bring enough water to stay hydrated.
If you're looking for an adventure, you're a stag and hen group, or a family unfamiliar with the area, play it safe and do your watersports under the guidance of an activity provider. They'll know the best rivers and lochs, and mountain streams to play in.
Top Watersports in the Cairngorms National Park
Whether you want to canoe or kayak while taking in the stunning scenery, stand up paddle on a beautiful lake, we've got the best of everything in and near Aviemore.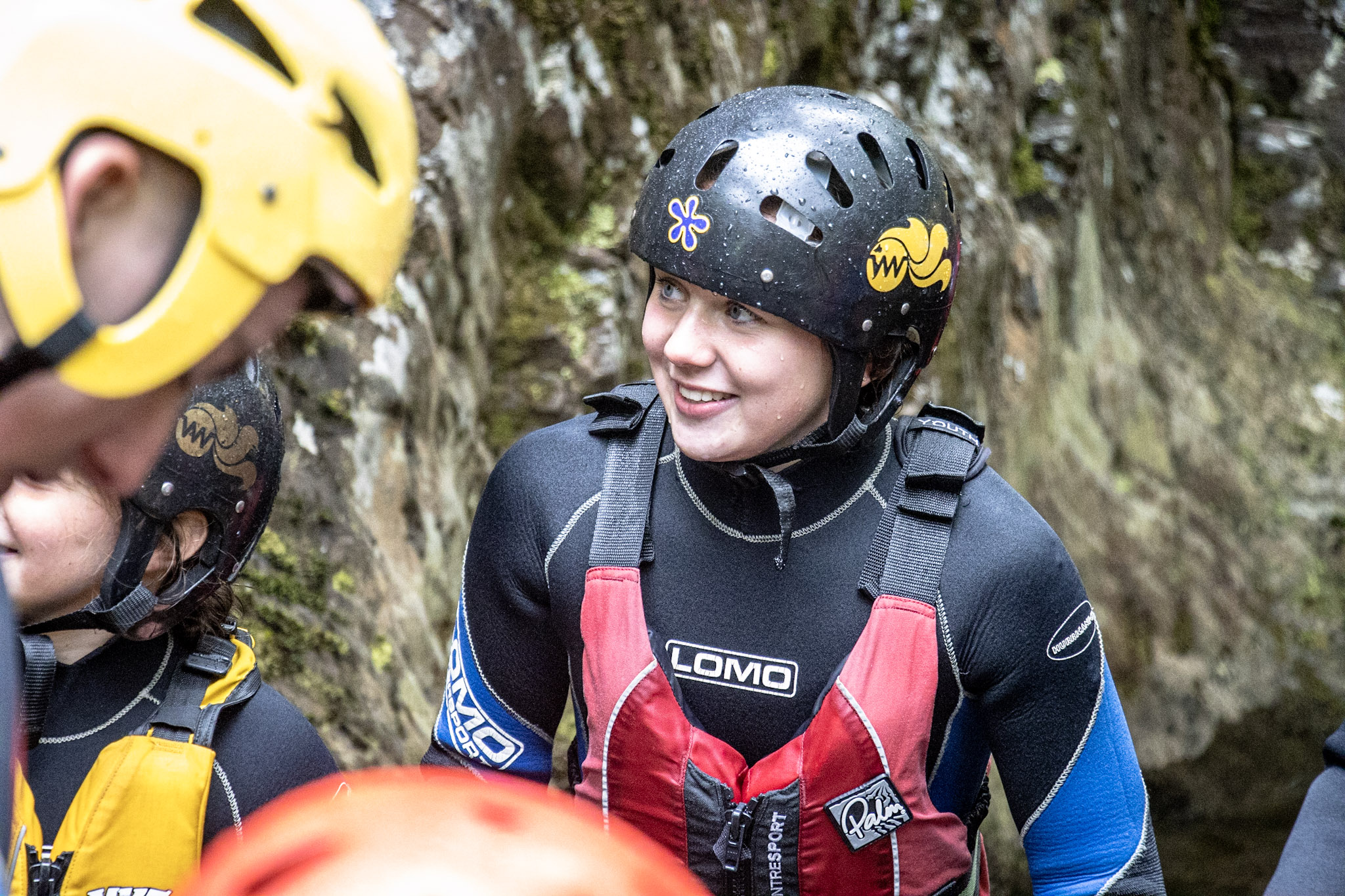 Kayaks and canoes are some of the best ways to explore the natural water flowing along the River Spey. From tranquil paddles along scenic routes to more challenging white water routes for the adventurous. These paddle sports can be exhilarating or relaxing, depending on what you're looking for. Our guided tours are a great way to enjoy a leisurely paddle with the backdrop of the Cromdale Hills and the Cairngorms.
This paddle sport can be both gentle and great fun. Our purpose-built pond is the perfect place to try it. You'll get Scotland's gorgeous backdrop with the reassurance of knowing you don't have to battle the tides or flowing water while you find your feet.
Gorge walking involves traversing a river or stream by walking, scrambling, and climbing along the riverbed. It's a challenging but rewarding activity that allows you to experience the Cairngorms' rugged landscape up close. It's one for those who enjoy a bit more thrill, with natural rock slides, pool jumps and plunge pools. You'll feel well and truly immersed in wilderness Scotland.
Raft building is a fun and interactive team building activity involving constructing a raft using provided materials and testing it on the water. It's a great option for families, groups of friends, or corporate team building events. Our team will be there to help and advise, but the challenge and fun are yours to have!
If you're looking for a truly exhilarating experience, white water rafting is the way to go. The Cairngorms offer a variety of whitewater routes, ranging from gentle rapids to heart-pumping, adrenaline-inducing rapids for the more adventurous. We can cater to families with older children and adults looking for serious fun on some of the UK's best white water.
Full on Adventures in the Highlands, Aviemore and on the River Spey
Now you've seen how active Aviemore can get when it comes to adventures in and on the water, it's time to book yours. If you like the idea of watersports surrounded by the picturesque Cairngorm mountains, look no further.
At Cairngorms Activities, we can provide all the kit you need, from wetsuits to paddles. We have changing rooms on-site and a cafe to refuel after the fun.
Talk to us about your next adventure.